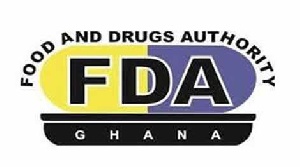 The Central Regional Directorate of the Food and Drugs Authority (FDA), has embarked on education on food safety for food vendors to promote hygienic food services to the public.
The vendors are being sensitised on proper practices of preparing food, use of appropriate cooking utensils, and the avoidance of using bare hands to serve food, which could pose health risks.

Mr John Odai Tettey, the Central Regional Director of the FDA, speaking to a group of food vendors including chop bar and restaurant operators at Agona Swedru, said the Directorate had decided to bring its activities to the door-steps of the clientele for them to avoid contravening the laws.

He said the Central Region had been zoned into four to enable the staff to sensitise the public on the importance of hygienic food preparation and sale.

Mr Tettey cautioned the food vendors to be mindful of their activities because punitive measures would be taken against those who would flout the laws of the FDA.

He urged the public to patronise food from vendors who are properly dressed with their hair covered and clean working gear to ensure safety.

Mr Tettey cautioned those who operate commercial grinding or milling machines for tomato and corn-dough to ensure their surroundings were clean and hygienic to prevent contamination of the food.
He warned porridge, 'waakye' and other food sellers to desist from plying their trade close to gutters to avoid microbial contamination.

Mr Tettey called on customers to wash their hands under running water with soap, especially before eating and after visiting the loo.

He said currently pictorial health warnings on tobacco smoking have been embossed on cigarette packs and this was being implemented in African countries including Ghana to make the public aware of the harmful effects of smoking.

The Director said the Public Health Act 2012, Act 851, and the Tobacco Control Regulations 2016 (LI 2247), mandated the tobacco industry to implement those warnings on all tobacco packages in Ghana.

Touching on the magnitude in the upsurge of Tramadol usage by the youth, Mr Tettey said the Central Regional Directorate of FDA had embarked on education to sensitise users and chemical sellers on the dangers of the drug.