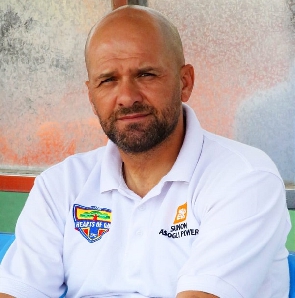 FIFA has taken action against Hearts of Oak, imposing a transfer ban following the club's failure to pay former coach Slavko Matic an outstanding amount of $14,002.
The international football governing body has also instructed the Ghana Football Association to enforce this decision at the national level.

The controversy dates back to March 2023 when Serbian coach Slavko Matic was abruptly dismissed. His departure came amidst a volatile situation as irate supporters confronted him during a training session.

Subsequently, Matic lodged a formal complaint with the Ghana Police, citing concerns for his safety. In response to the escalating situation, Hearts of Oak conveyed their inability to guarantee the coach's security.
In the wake of these events, Matic took his case to FIFA, resulting in a verdict in July of this year. FIFA ruled in favour of Matic, ordering Hearts of Oak to compensate their former coach with $14,002 for the breach of his contract.

Hearts of Oak have not complied with FIFA's directive, prompting the international body to impose the transfer ban. This embargo, already in effect, prevents the club from registering new players until they pay Matic.