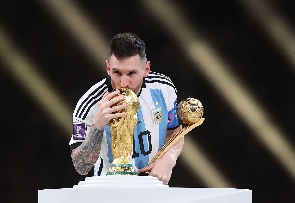 The 2026 World Cup will be the first ever to feature 48 teams following a meeting by the FIFA Council in Kigali, Rwanda, on Tuesday.
The tournament will be jointly hosted by the United States, Canada and Mexico and will feature 104 games.

The Guardian reports that the FIFA Council is expected to approve the new format at their meeting in Kigali today.

The new format of the World Cup will see 12 groups of four teams, which is a departure from the initially proposed 16 groups of three teams.

The winners and runners-up of each group will automatically progress to the knockout stage, while the eight best third-placed teams will also qualify.

Due to the expansion of the World Cup, the 2026 edition of the tournament will include a new round of 32 stage.
"The preparation period for 2026 between a player's release and his country's first match will be about two weeks, double what was in place for the finals in Qatar last year, but shorter than the previous two tournaments," The Guardian reports.

"The thrilling end to the group phase in Qatar has persuaded Fifa to stick with four-team pools and there had also been integrity concerns raised over three-team groups because teams would be unable to complete the group at the same time, raising the possibility of results being engineered."

Ghana has so far participated in four World Cup tournaments, with the Black Stars' last appearance coming at Qatar 2022.


There will be more matches at the 2026 World Cup than there were at the first five World Cups combined: