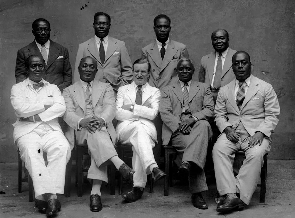 This article was first published by GhanaWeb on Sunday, March 12, 2023. We bring back the story in commemoration of this year's Founders' Day.
Decades back during British colonial rule in Ghana, many tales have been told about the formation of Ghana's nationalist party, which is now etched in history and labelled as the United Gold Coast Convention (UGCC).

The party, which was co-founded by lawyer Joseph Boakye Danquah, was formed as part of the measures to establish a self-government from the then Gold Coast, which was under British rule.

The UGCC, which was formed in 1947, comprised mainly of the elite in the then Gold Coast Society.

The nationalist-focused party is said to have constantly demanded constitutional reforms which would eventually pave way for self-government.

As part of their fight for self-governance, there was a key figure among leaders of the UGCC party, a British lawyer known as Dingle Foot.

Dingle Foot served under the United Gold Coast Convention (UGCC) since its formation in 1947.

According to liberalhistory.org.uk, he was born in Plymouth on August 26, 1905, and was the eldest of five siblings who quickly gained ground in the political scene in England at the time.

He attended Bembridge School, Isle of Wight; Balliol College, Oxford, where he studied modern history. Foot later attended the Grays Inn, where he was called to the Bar as a lawyer in 1930.
While at Oxford, he became president of both the Liberal Club (1927) and the Union (1928) and within a short time, he was able to use his political skills in the House of Commons.

In 1940, Winston Churchill appointed him as Parliamentary Secretary to the Ministry of Economic Warfare, where his role in the furtherance of the blockade of Germany and the Axis powers was vital after he was sent on important missions to Washington and Switzerland.

Throughout his legal work across the world, Dingle Foot served as counsel in Ghana, Nigeria and Kenya. He was said to have provided legal defense for human rights activists such as Jomo Kenyatta, Hastings Banda and among others.

While in Nigeria, he was later expelled in 1962 for challenging the validity of the Emergency Powers Act on behalf of the western Nigerian premier, Alhaji D. S. Adegbenro.

Dingle Foot continued to practice law after 1970 and later died during a case in Hong Kong on June 18, 1978.

The rare image of UGCC leaders and their lawyer Dingle Foot

Located in a decades-old photography studio in Jamestown in Accra, captured all leading members of the United Gold Coast Convention, as they posed for a photo with their British lawyer, Dingle Foot.

The image was taken in 1948 by legendary photographer, JK Bruce-Vanderpuije, in his studio called Deo Gratias.
Over the years, many have argued that leaders of the UGGC were the founding fathers of Ghana and the eventual creation of the famous 'Big Six'.

Among them was Kwame Nkrumah (top row, second from right), who later broke away from the UGCC and led Ghana to independence in 1957.

J.B Danquah (bottom row, second from right), established the UGCC party and is said to be the person who came up with the name Ghana.

In the top row, first on the left was Edward Akufo-Addo, who later went on to serve as president and father of the current president of Ghana, Nana Addo Dankwa Akufo-Addo.

See the image below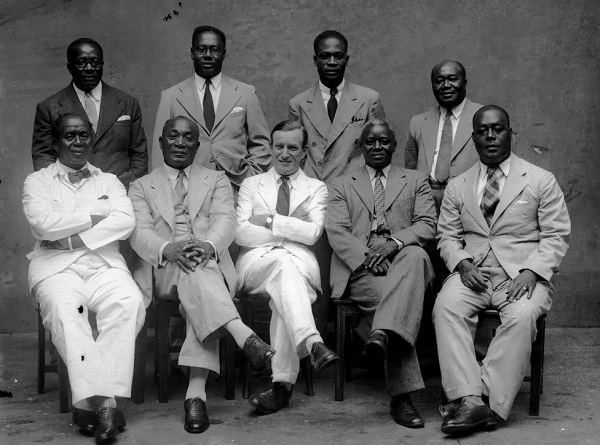 Credit: Deo Gratias Studio

The UGCC spilt
According to britannica.com, founder of the UGCC, J.B Danquah had invited Kwame Nkrumah to join in the efforts against the reforms which would lead to the eventual exit of the British.

While specific details as to what later transpired, resulting in 'bad blood' between the pair [Danquah and Nkrumah], remain scanty, what is known is that Kwame Nkrumah was first asked to serve as the Secretary-General of the UGCC.

While serving in the position, a rift between Kwame Nkrumah and the leadership of the UGCC began to emerge over what they said was his [Nkrumah's] increasingly radical approach to nationalism.

The UGCC subsequently split, with Kwame Nkrumah going on to form a more revolutionary and mass-oriented Convention People's Party (CPP) in 1949.

After the split, J.B. Danquah, along with other members and leaders of the UGCC had joined an official commission on constitutional reform that was sponsored by the British colonial government.

This was said to have somewhat contributed to the lack of mass support for the UGCC, which was seeking constitutional reforms aimed at self-governance from British rule.

Ghana's leading digital news platform, GhanaWeb, in conjunction with the Korle-Bu Teaching Hospital, is embarking on an aggressive campaign which is geared towards ensuring that parliament passes comprehensive legislation to guide organ harvesting, organ donation, and organ transplantation in the country.

Watch the latest episode of Legal Agenda on GhanaWeb TV below:




Watch the latest episode of The Lowdown on GhanaWeb TV below:





You can also watch the latest episode of Everyday People on GhanaWeb TV below: