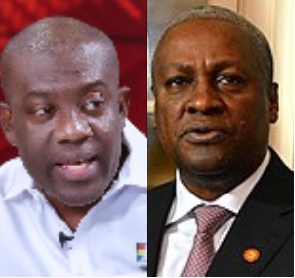 The government of Ghana, as part of the $3 billion bailout agreement it had with the International Monetary Fund (IMF), agreed to review all of its social intervention policies including the Free Senior High School (Free SHS) policy.
It can be recalled the word "review" became one of the most used words in the media space after former President John Dramani Mahama promised in 2020 to review the Free SHS policy.

Government functionaries interpreted the word "review" in all manner of ways to point out that Mahama did not mean well with his promise.

The Minister for Information, Kojo Oppong Nkrumah, for one, said that Mahama's promise to review Free SHS means cancellation of the policy.

The information minister, who is also the Member of Parliament for Ofoase-Ayirebi, in the run-up to the 2020 general elections said that Mahama will collapse the Free SHS programme if elected as president again.

"… this claim to possibly review the programme if Mr. Mahama were ever to regain power is simply a veiled threat to collapse the program," Oppong-Nkrumah said in a 12-minute video clip.
Watch Oppong Nkrumah's remarks in the video below:


Government intends to cancel all flagship programmes including Free SHS.- kojo Oppong Nkrumah

pic.twitter.com/AUgY82CEkX

— KOJO DYNAMIC ???? (@AnnanPerry) May 24, 2023
You can also watch the latest episode of People & Places:




IB/OGB