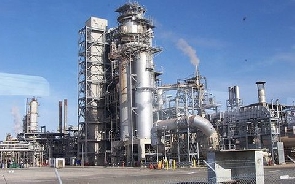 The then Managing Director of Tema Oil Refinery (TOR), Isaac Osei, in February 2019 said the oil refinery will be in full operation soon.
According to him, measures were put in place to revive the oil refinery.

Read the full story originally published on February 8, 2019 by Michael Afful.

The Managing Director of the Tema Oil Refinery (TOR), Isaac Osei, is optimistic that the refinery will be in full operation soon, explaining that steps are being taken to position it better.

The Isaac Osei-led administration has carried out intensive maintenance at the refinery after the facility missed mandatory shutdown for maintenance since 2009.

Due to the obsolete nature of some components at the refinery, the facility which resumed operations last year, and continued this year, has been shutdown as a result of a damage to the Orific, a component of the Residual Fluid Cataritic Cracker (RFCC).

Responding to a question on when TOR would resume full operations at the Meet-The-Press series in Accra, Mr Isaac Osei, who confirmed the shutdown of the plant, however, said a new component had been brought from overseas and would be fixed in the next couple of days.
"I can say without fear of contradiction that we will be back by the end of the third quarter. Also, let me just say that 2017 when the President and his team took over, TOR had been in a situation where we had not been able to maintain the plant since 2009. In fact, TOR had missed three cycles of maintenance, so what we did was rehabilitation," he said.

The refinery has the capacity to process 45,000 bopd, but is now only able to process 25,000 bopd as according to Mr Isaac Osei, one of the components of the facility was removed some years ago.

"We intend to replace that and it should come from overseas early in the second quarter after which we will install it," he explained.

Mr Isaac Osei explained that his outfit and the Ministry of Finance, as well as the Energy Ministry, are holding discussions and considering options that would be suitable in order to revive the refinery and make it more viable.