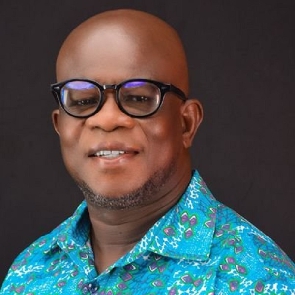 Prof. Michael Kpessa-Whyte of the University of Ghana has issued an apology to the Supreme Court of Ghana over comments deemed disrespectful of the apex court even though he insists there were directed at the American Supreme Court.
He became the subject of a court summons on May 25, almost a week after his controversial tweet and he issued an apology on the same day, which apology was widely published in the media.

"They have succeeded in turning a Supreme Court into a Stupid Court. Commonsense is now a scare commodity. A major element in the death of democracies is partisanship in the delivery of justice. Our judges need lessons in political philosophy and ethics. Time will tell !" the May 19 tweet that landed the academic in trouble read.

In his apology, he apologized to the court and reiterated that his target was not the Supreme Court of Ghana. He also stated having deleted the said tweet adding that he could have done better with his choice of words.

Read his full apology below:

APOLOGY AND RETRACTION
I sent out a tweet on May 19, 2023, at 9:59 am, that shared my reflections on insights from a book by David A. Kaplan (2018) The Most Dangerous Branch: Inside the Supreme Court's Assault on the Constitution, and recent attempts by some Democrats in the US to increase the number of Justices at the Apex Court from nine to thirteen.

I have observed that Ghanaweb and other media publications sought to associate my tweet with the decision of the Supreme Court in the Assin North matter as stated on the face of the Summons to show cause, but honestly, at the time of my tweet, I had no knowledge of the Supreme Court's decision as at 9: 59am when I did the tweet.

The said tweet has resulted in the invocation of the powers of the Apex Court in our country for me to appear and show cause, because the tweet has scandalized the Apex Court of our land and has brought the dignity of the court into disrepute.

Sincerely, the tweet was not done with the intent to scandalize or denigrate a revered institution such as the Supreme Court of Ghana for which I have a tremendous amount of respect and admiration. These are consequences I never intended, although I do accept responsibility that, I could have exercised better judgment in my choice of words.

Please permit me to state unequivocally that I have no reason to slander our Supreme Court, and I hereby sincerely apologize unreservedly for any pain and discomfort my tweets may have caused the Chief Justice, the Supreme Court, and the entire judiciary.
I hereby retract the tweet in question; accordingly, the tweet has been deleted completely and I pray for forgiveness.

Thank you.



You can also watch the latest episode of People & Places:




Meanwhile, watch the latest episode of SayItLoud on GhanaWeb TV below:






SARA