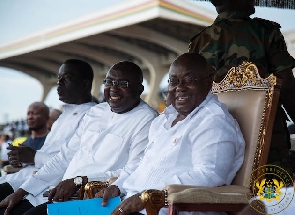 Political scientist Dr Richard Amoako Baah says the President of Ghana, Nana Addo Dankwa AKufo-Addo, should resign.
According to him, the President has failed woefully and will do himself a lot of good if he vacates his seat as President.

He believes that if he believes in his Vice President, he should leave him to take over so that he executes the plans he says he has for the country.

"Bawumia says he has a plan for the country. This is the time for Nana Addo, who has failed woefully, to resign on sick grounds. This will pave the way for Bawumia who says he has a plan to execute the plan so that he can be tested," he said on Accra-based Neat FM.

Background
President Nana Addo Dankwa Akufo-Addo has acknowledged the challenges that Ghanaians are facing amidst the ongoing economic crisis.

Addressing the media after casting his vote at the New Patriotic Party's Super Delegates Congress on Saturday, August 26, President Akufo-Addo expressed his confidence in the Ghanaian people's ability to choose a leader who can navigate the country through these difficult times.

"It's difficult, I'm the first to admit it. I have said it several times, but at the end of the day I believe when the moment comes, Ghanaians will reflect on who best to get us out of this difficulty and take us to the next stage," he said.