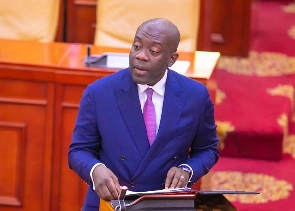 Information Minister Kojo Oppong Nkrumah says failure to pass the new tax bills on Friday will affect efforts and ongoing negotiations with the International Monetary Fund for a bailout.
The Minister averred that if these bills are not passed, plans to raise money to supplement domestic revenue will be thwarted.

"If we don't do what we have to do for the country, we will have major challenges. So, this is a set of measures we must ensure is worth passing. This is a major bridge we have to cross in closing this revenue gap and ensure that there is more liquidity", he told journalists.

The three bills currently before parliament for consideration are the Income Tax Amendment Act, the Excise Duty Amendment Act, and the Growth and Sustainability Act.

The government hopes to generate GH¢4 billion per year if the bills pass.

"We are not in a good place because we don't have access to the international capital market. Having hard currency to service our import obligations is significantly being threatened."
"It is important we complete all prior actions, lock up this deal and get a shore up best from the IMF and other inflow sources and do certain broad things to ensure that the economy doesn't crash and expand investments that will bring economic inclusion.

"We need to do what must be done to ensure that we cement the kind of relative stability we have had in the last four to five months and gradually begin to reverse the economic challenges we have had."

"To our colleagues in the Minority, I think it is clear that we need to work together to achieve a certain objective for the country.

"My appeal to those in government, Minority, economic groups is that, we must ensure that these revenue bills are passed", he added.