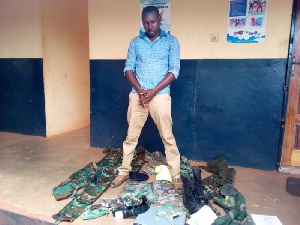 The Tamale Police Command has arrested one Issah Abdul Mubarik, 34, a civilian who posed as a military officer in the Northern Region.
The suspect, on 16 October, 2017 went to the Tamale District Police dressed in a military uniform and handed over a suspect whom he claimed had stolen his motorbike some months ago.

Suspect, Mubarak, told police investigators he was a soldier with the 6BN in Tamale and went ahead to write same in his complainant statement to police. The investigators were sceptical, and upon further interrogation on Monday, October 23, he admitted he was not a soldier and that the military accoutrements he possessed belonged to his late grandfather.
The police are also investigating that claim to verify if indeed, his late grandfather was a soldier.

Upon a search of his room at Dungu in the Northern Region, police retrieved two sets of uniforms bearing the name A. Mubarak, one pair of military trousers, two military pullovers, two military vests, one military combat boot, one military cup, a pair of military gloves, 2 pieces of 9mm ammunitions and a rubber stamp bearing the name of Forces Pay Regiment, Burma Camp, Accra.