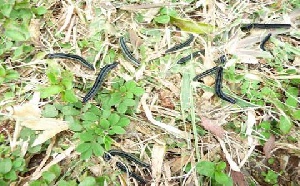 Thu, 2 Nov 2017 Source: B&FT
Deputy Minister of Food and Agriculture, Dr. Sagre Bambangi, has told Parliament that government has so far expended about GH?10 million on insecticides to combat the Fall armyworm (FAW) outbreak.
He told Members of Parliament when he was asked a question by Member of Parliament for Ashiaman, Ernest Norgbey, on the procurement method for the insecticides, as well the cost and impact of the pest invasion.

"The total cost of the procurement is GH?9,998,896 and the armyworm has been generally controlled," he said.
FAW a new pest in Africa that attacks maize and also feeds on a range of other crops, including millet, sorghum, rice, wheat, sugar cane and vegetables.

More than 112,000 hectares of farm fields have been invaded by the pests across the country.
Source: B&FT