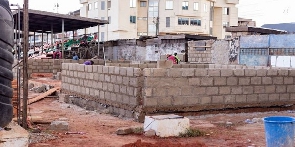 Football enthusiasts in Sunyani, the Bono Region's capital, have banded together to build a new dressing room at Sunyani Coronation Park, which will be home to recently promoted Ghana Premier League club, Bofoakwa Tano.
This initiative is in response to the requirements set by the Club Licensing Board of the Ghana Football Association.

The decision to embark on this construction project was made two weeks ago when Professor Peter Twumasi, the Director General of the National Sports Authority, failed to secure approval from the Club Licensing Board for the park before the commencement of the new Premier League season.

Leading the charge to renovate the park is Ranford Antwi, a local businessman based in Sunyani. Antwi expressed the determination of the fans to prepare the park for approval.

He highlighted the unfulfilled promises made by Professor Peter Twumasi to engage the services of Frank Boahen from Green Grass Technology for pitch improvement.

Additionally, the Sports Authority Boss failed to convince the Club Licensing Board to grant approval for the Sunyani Coronation Park ahead of the new Premier League season.

Due to the aforementioned circumstances, the community decided to take affairs upon themselves and build a new dressing facility for the venue.
Antwi emphasized the importance of avoiding the fate of Kotoku Royals, a team that had to play their home games away from home and ultimately suffered relegation.

"We do not want to suffer the fate of Kotoku Royals, who had to play home games away from home and subsequently went into relegation," he said.

He urged individuals and organizations to lend their support to facilitate the completion of the Sunyani Coronation Park, acknowledging the dedication demonstrated by the fans and assuring them that their efforts will be remembered positively.

Meanwhile, the Deputy Attorney General and Minister of Justice Tuah Yeboah Alfred has pledged an amount of GH¢ 20,000 to support the project.

Bofoakwa Tano beat Eleven Wonders on penalties to secure qualification to the country's top-flight after 16 years.

EE/FNOQ