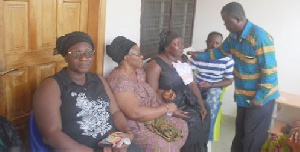 Family members, fans and admirers of talented female artiste, Priscilla Opoku-Kwarteng, aka Ebony Reigns on Friday could not control their tears after news broke out of her death in a road crash on the Sunyani –Kumasi road.
Some of the fans of the late songstress and the general public trouped to her family house at Abesim, near Sunyani to sympathise with the bereaved mother, Ms Elizabeth Opoku, and the family members.

The popular female artiste called Nana Hemaa by her mother and relatives was 1996-born and would have celebrated her 22nd birthday on Friday, February 16 this year.

But she met her tragic death in the road crash at Nyamebekyere, a farming community between Abesewa and Nsuta, Ashanti Region on the Sunyani-Kumasi highway on the Thursday night.

The singer and two other victims, including a military personnel were on board a four-wheel jeep vehicle with registration number AS 497-16 from Sunyani towards Accra to enplane to the United States of America to perform a show when the vehicle had a head-on collision with a KIA VIP bus heading towards Sunyani from Accra.

Their bodies have been deposited at the Mankranso Government Hospital in the Ahafo-Ano South District of Ashanti Region pending autopsy.


The Ghana News Agency gathered that Ebony visited her mother and family members and promised to celebrate her birthday with them on her return from the United States.

People were seen in Sunyani in the early morning on Friday in groups watching the last video that was made by Ebony with her family members at Abesim and shared with her friends before her departure on that fateful night.

Her mother who had just returned from the United Kingdom could not control her tears and was heard wailing uncontrollably when one of the Radio Stations tried to interview her on air.

Ebony was the youngest of three siblings, Nana Kwarteng-Opoku, eldest brother and Happy Opoku-Kwarteng, elder sister.
Some of her popular songs were 'Maame Hwe', 'Poison", "Kupe", "sponsor"," Hustle' "Aseda" and "Heartless"