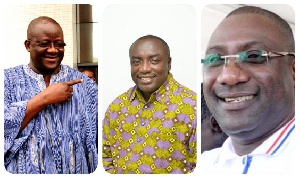 The New Patriotic Party has rejected claims that the party is considering a reversal of the suspension handed to three of its executives.
Reports surfaced last week that the party was considering a revocation of the suspension of Paul Afoko, Kwabena Agyei Agyapong and Sammy Crabbe who were suspended in 2015 for working against the interest of the party.

A Former NPP General Secretary, Ohene Ntow had told a section of the media that the President-elect, Nana Addo Dankwa Akufo-Addo has served notice to the party's National Executive Committee to have the internal issues resolved.

But a member of the National Executive Committee (NEC) of the party, Osei Kyei-Mensah-Bonsu, told Onua FM Monday no such decision has come up for consideration at the NEC's.

Speaking on Ghana Dadwene on the issue, Kyei-Mensah-Bonsu who is the Minority Leader in Parliament, said "what I know is that, Nana Addo has been preaching unity in the party ever since he was elected as the President and at the last NEC meeting, he said we need unity in the party but to say we have agreed to reinstate them, that did not happen. "Their names were not even mentioned.

Nana talked in general terms of unity and was not specific as being speculated," he added. Mr Paul Afoko who was the national chairman of the party, was suspended indefinitely in a unanimous vote by the Party's National Executive Committee on October 23, 2015 at the back of a demand made by the National Council of Elders of the party in September.
General Secretary of the party, Mr Agyei Agyapong, and the second Vice Chairman, Mr Crabbe were also suspended indefinitely in December 2015 for undermining the party's authority.

The two, who were not in favour of the decision to suspend Mr Afoko, were very critical of the party for that decision which somewhat led credence to claims of divisions within the party. Both Mr Afoko and Mr Crabbe have since sought redress at the Court but were shot down.

They wanted the High Court to order for their reinstatement on grounds of the decision being illegal but the court dismissed their applications.

Asked whether it would be prudent to reinstate the three suspended executives now that the party has won power, Mr Kyei-Mensah-Bonsu said "we want more people for the party and I believe it will be good if we bring them back.

"If they have not shown remorse, we should not consider bringing them but if they show remorse and accept their faults we should forgive them and bring them back".