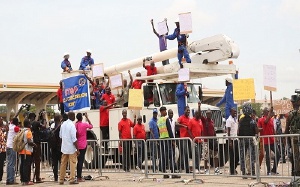 Aggrieved staff of the Electricity Company of Ghana (ECG) say they fear losing jobs and wives over the privatization of the company.
The Central Regional branch of ECG workers who embarked on one hour sit-down strike earlier this week to protest the decision and also demand severance packages that the government is denying them, insist they are against the privatization of the company.

The workers, who spoke to the media shortly after the demonstration, observed that their jobs are not secured if a private company takes over and as a result they might lose their wives if they become jobless.

They therefore appealed to President Nana Addo Dankwa Akufo Addo to as matter urgency compensate them in order to start up their own businesses before the new company takes over ECG since they are not ready to join unemployed graduates association.

"Losing jobs and wives is very painful so we will not sit down and lose these two". They lamented

The Divisional Chairman, Mr. Isaac Adu Boateng said ECG workers cannot prevent government from selling the company but the government through the Energy Minister should first listen and sympathize with them by resolving their concerns amicably.
"When ECG is given to private man, what is the guarantee that he will be able to control tariffs " he said.

According to him, none of the companies that have shown interest in taking over ECG belong to any energy company in the world and therefore do not have the expertise.

Mr. Adu Boateng stated that if the government wants to address challenges facing ECG, then there is the need to choose a company that is more competent and can handle the ailing power distributer.

On his part, the Central Regional Council Chairman of ECG, Rev Enoch Laryea Paul Hayes disclosed that several petitions have been sent to the president and Energy Minister but no single response has been received.