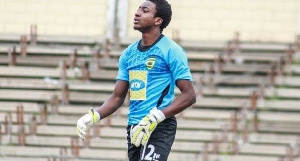 Asante Kotoko goalkeeper, Felix Annan has called on his teammates insisting they must use the pain of their Confederation Cup exit as motivation to beat WAFA and to also urge them on to success in the upcoming season.
The Porcupines Warriors were crashed out of the CAF competition in the first preliminary round by CARA Brazzaville by 6-7 on penalties after both clubs had won their respective home games by 1-0.

With 2017/18 Premier League yet to be decided when it will be kicked off due to a court injunction, the supporters of the club are yet to overcome the pain brought by the defeat but the club goalkeeper has told his colleagues to fight for a good start in the league to attract the support of the fans.

"Each player in the team must take his motivation from the disappointment we had in Congo," Annan told the official club website.

"That should be enough to motivate everyone to work extra hard to get a good start this season. That is the only way we can lift ourselves up, attract the attention and positive affection of the fans again and sustain them throughout the season".
Kotoko's first game of the season is away to WAFA, a club they are yet to beat away and to whom they lost by 2-0 last season.

Felix Annan was scouted and groomed by the academy then called Gomoa Fetteh Feyenoord. He was recruited by Kotoko and went back again on a season loan in the 2014/16 campaign.

"We know they are a very good side", Annan said about the chances of Kotoko in the coming game. "However, it is a side that has also lost a lot of its experienced and regular players and I think we can capitalise on that to beat them. That we know would still not come easy but we must be fully prepared to fight for a win".