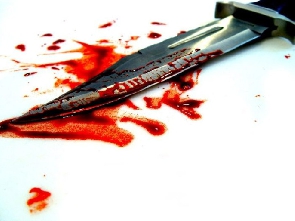 Correspondence from Bono East
A 62-year-old fetish priest at Parembo Sawaba in the Pru East district of the Bono East region, Solomon Mbalegon, has allegedly killed himself after murdering his wife.

Solomon Mbalegon reportedly stabbed his 25-year-old wife, Nakoli Mbalegon in the neck before stabbing himself in the stomach resulting in their untimely death.

The mortal remains of the couple were discovered in a pool of blood in their room the following day with the intestines of Solomon Mbalegon gushed out.

The sad incident which happened on Thursday, September 21, 2023, has since thrown the entire Parembo Sawaba township into a state of shock since this is the first time they are recording such an incident in the community.

Reports from the community indicate that the couple before the incident had been having marital misunderstandings which they suspect might have led to the unfortunate incident.
"Of late, they have been having several disagreements in their marriage and I suspect that eventually led to the man committing that act", Hajia Fati Memuna disclosed.

The Assembly Member for the area, Yussif Sulemana, revealed that his attention was drawn to the incident by a team of police personnel who visited the crime scene.

"My attention was drawn to the unfortunate incident by the police and when I went there, I saw the lifeless bodies of the deceased in the room in a pool of blood".

He disclosed that the bodies have been deposited at the Mathias Catholic Hospital morgue in Yeji whilst investigations into the matter by the police continue.

"The bodies have been conveyed to Mathias Hospital and the police have commenced investigations into the matter".