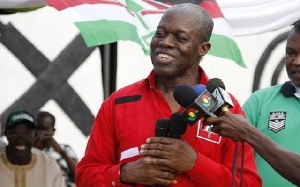 Vice-President Kwesi Amissah-Arthur has supported the Oguaamanhen with several items ahead of the Fetu Afahye festival to be held on Sunday September 4.
President John Dramani Mahama is scheduled to grace the programme as a special guest but ahead of his arrival, the vice-president paid a courtesy call on the chief and presented tubers of yam, bags of rice, gallons of cooking oil, assorted drinks, and an undisclosed sum of money to the chiefs at the Emintsimadze Palace on Saturday September 3.

Mr Amissah-Arthur explained that he had "an assignment in the Western Region but I decided to pass by to wish Osabarima, chiefs, and people of Oguaa season's greetings and support to make the celebrations a success".
On his part, the Oguaamanhen, Osabarima Kwesi Atta, expressed gratitude to the vice president and his wife for the kind gesture and asked for blessings in all their endeavours.