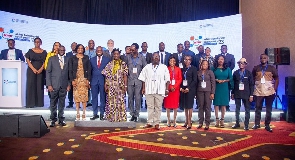 As part of efforts to deepen financial inclusion and improve Ghana's mobile money space, Head of FinTech at Huawei Southern Africa Region, Lee Maina has indicated that the Mobile FinTech industry is entering a new phase with its FinTech 2.0 strategy.
According to him, this development could witness customer data becoming more critical in the endeavor to authenticate and offer the most suitable services to carry out more precise credit assessments and transactions.

Delivering its position at the 2023 Mobile Technology for Development (MT4D) Conference on the theme, "Driving Digital Inclusion In The Real Economy", Lee Maina said for the Ghanaian market, Huawei has deployed its finance and payments cloud as part of its FINTECH 2.0 strategy which boasts microloan, buy now pay later, shoppers' loan, overdraft, savings, super apps with mini-apps etc.

He added that Huawei has allowed FinTechs in Ghana to enjoy the strategy on SAAS (Software As A Service) mode with minimal investment whiles offering them the flexibility to localize solutions and utilize the local developer ecosystem for scale and support via a low code/no code developer platform.

"It is estimated that Ghana has over 20,000 developers and the local universities add approximately 1,000 new developers into the job market annually. It's not viable to absorb all these talents in the current job environment nor will all the surplus have an equal stab at entrepreneurship, it is, therefore, prudent to devise a sustainable way to accommodate them into our FinTech strategy and ecosystem and they will play a vital role not only in scaling our services to the longtail customer segments but also in driving local innovations. Huawei Low code/no code developer solution empowers FinTechs to achieve this vision."

He further noted that current trends in Ghana, Kenya and other Sub-Saharan countries where inclusion has heavily been driven by mobile money and its reach to the unserved and underserved adding that he believes "It's the ideal time to expand FinTech from being ubiquitous to a tool used in deepening financial inclusion to help drive value for the real economy."

"This is no longer those "nice to have" approaches but a vital cog in retaining and gaining market share in an ever-crowding industry where even new entrants are challenging established incumbents."
"In the race for ownership of the customers' mind share, we believe the winners will be the ones that will have the most valuable, relevant, holistic and authenticated body of data that enables them to offer the most suitable services to customers, at the most suitable time and at a user-specific pricing."

He continued, "For us to generate this rich data that's scattered across different sectors, platforms and players, there is the need for concerted efforts from all stakeholders not only in bringing everyone online but also in collapsing our approach to technology from Silo based to layer based where information is easily shared. Huawei's FinTech 2.0 seeks to bridge this gap created by fragmentation by bringing this layered approach not just to FinTech Technology but also in the upselling of ideal services where the personalized proposition for each user deepens based on our understanding of each customers habits and needs."

Lee Maina added that Huawei as a world-leading ICT enterprise has the vision and mission to bring digital to every person, home and organization for a fully connected and intelligent world.

"With Fintech 2.0, we continue to invest heavily in FinTech research and innovation, supporting players in the FinTech space to create end-to-end solutions that will bring the value chains online, basically seeking to solve some of the persistent problems they may be having beyond payments. That way, we remove any lethargies to adoption extending their resilience, ultimately generating the required data to extend services & drive localized innovation and ensuring efficient deployment of capital and resources," he explained.

"We have deployed our FinTech in more than 40 sites globally which is currently serving more than 400 million customers, so it's not just technology but our ability to package all these best practice learnings from other successful sites and bring that success DNA to your project to ensure faster time to revenue. Huawei seeks partnerships in Ghana with like-minded organizations to deepen financial inclusion", Lee Maina concluded.