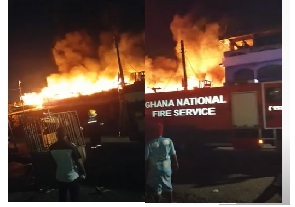 Officials of the Ghana National Fire Service (GNFS) doused a fire in a shop close to the Makola Mall in Accra.
According to a Facebook LIVE report posted on the Facebook handle of GNFS, their men were called into action when fire started at a shop located on a storey building.

The affected shop was a dealer in hair extensions and was located close to other structures including a GCB bank.

The men attacked the blaze despite the challenge of bad stench emanating from the burning products.
They subsequently doused the blaze and will start investigations into the cause of the fire.