A fire that started at about 1:30pm around Asoredanho at Dansoman in Accra has razed down at least 10 shops.
The blaze that lit up a carpentry shop on Sunday, September 10, reportedly spread quickly and caught up with other shops lined up along the Aliu Mahama Street.

Traders are still counting their loses as nothing could be salvaged from the charred shops.

According to Olivia Olympio, an eye witness who spoke to www.ghanaweb.com, the sight of smoke from within the clustered structures at its early stages was neglected until it erupted and gutted adjoining shops along the street which drew the attention of residents.

Mrs. Olympio disclosed that she rushed to the scene with other members of the public with buckets of water to put out off the blazing fire but their efforts prove futile.

The witness who accused a fenced neigbouring house for starting the fire said, the smoke thought to have been a regular one ascended from the premises of the nearby house while some occupants there were burning waste materials.

It took the intervention of the Ghana National Fire Service (GNFS) to dowse the fire.
Another witness also reiterated that the smoke emanated from the house within which refused was being burnt, hence less attention was given to the site of the smoke ascending.

She added that the fire scaled up the walled residence and lit up the shops outside.




But speaking to a male occupant of the neighbouring house that has been fingered by some eyewitnesses, he denied the claims.

The witness who spoke to www.ghanaweb.com off camera said, the fire started externally but trickled into the walled premises due to the direction of the wind and caught up a tree and the gathered refuse.

The wild fire razed down a chop-bar, beauty parlor, boutique, furniture shop, household sale shop, wielding and vulcanizing shop.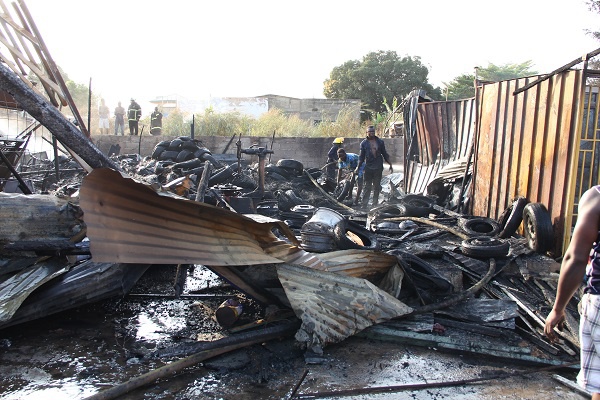 Some residence indicated that they placed numerous calls to the Ghana National Fire Service when the fire started raging but they failed to respond to the scene early.

They recounted that the emergency response team arrived at about 3:00pm following the loads of calls.

The cause of the fire has yet not been established.