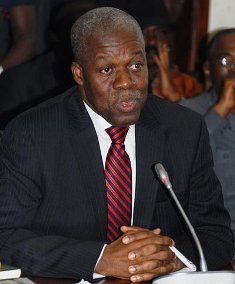 Sun, 30 Aug 2015 Source: GNA
Vice President Kwesi Amissah-Arthur has called on Ghanaians to see fire safety as a shared responsibility and that it is the duty of everyone to apply basic safety regulations to reduce its occurrence.
He said most of the fires and other disasters, which occurred in the country, could have been avoided if people had adhered to basic safety regulations.

Vice President Amissah-Arthur made the statement at the Graduation Parade for Cadet Intake XI at the Fire Academy and Training School (FATS) at James-Town, Accra.

The FATS, which was established in 1964, was to serve as a centre of excellence for professional training in theoretical and practical aspects of fire fighting, risk management and emergency response in the sub-region.

The school is also to provide a culture of continuous improvement of the human resource capacity of the service, through the provision of high-quality training and development programmes in a conducive environment.

The Cadet Intake XI is made up of 165 officer cadets, all of whom are serving officers. Out of which 58 are female and 107 men.

Mercy Quarcoo-Tagoe was awarded for being the best in foot drills, whiles Charles Kingsley Amoh was awarded for best in academic.
The Chief Fire Officers award went to Mr Samuel Duodo whiles Ezra Kpakpo Mingle was adjudged the overall best cadet officer.

Vice President Amissah-Arthur noted that, prevention was the most important aspect of fire safety and urged the new graduates to be worthy ambassadors of the fire safety campaign.

He said as the rainy season recedes and the country approaches the dry season, there is the need for the district assemblies to collaborate with the GNFS to reduce the occurrence of bush burning and its attendant bush fires.

He charged the fire service to ensure that fires and other related disasters were also reduced in the country.

He said since the service is funded by Ghanaians, it is their responsibility to ensure that certain undesired fires were reduced for the nation to have a peaceful atmosphere for development.

Vice President Amissah-Arthur stated that, the government since 2009 had procured 228 fire fighting appliances, which include fire tenders, recovery trucks and turntable ladders.
He said it was necessary for the GNFS to adhere to the culture of routine maintenance to ensure that the equipment procured at great cost lasts longer.

He said the prompt response of the fire service to major incidents in the country had helped to save many lives.

He said these actions had endeared the fire service to the hearts of many Ghanaians and they need to continue this to retain the public trust.

He also commended them for their effort during the June 3, flood and fire disasters, by saving lives and property.

Later, Vice President Amissah-Arthur also inaugurated a new officers Mess for the Fire Academy and Training School.
Source: GNA