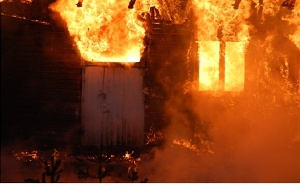 The Ghana National Fire Service is set to embark on a nationwide house to house fire auditing to minimize the spate of fire outbreak in the country.
Frequent fire outbreaks have become a major issue in the country in recent times.

Properties worth millions of cedis have in the last few years been destroyed in fire outbreaks in major markets and health facilities as well as homes.

Deputy Public Relations officer of the Ghana National Fire Service, Prince Billy Anaglatey said on 3FM's Late Edition show that the move is to assess the risk of fire in various homes in order to prevent domestic fire outbreaks.

"House to house auditing is about risk assessment in premises, this particular one we call it house to house because we have added homes to what we have already been doing, commercial premises, places of entertainment, schools, hospitals and others that our law has stipulated clearly; this time however we are moving to homes," he said.
Mr Anaglatey observed most of the recorded fire outbreaks in the early part of the year were domestic fires, noting it outnumbered other category of fires identified in the country.

"Fire outbreaks, it is the home fires, domestic fires that outnumbered all other categories of fires that we have. Also, within this period if you look at those fires that occur it doesn't only destroy people's property, it does not only destroy people's homes but lives are also lost in it," he said.

The latest move by the Service, he said, would help in the proper education of the public on how to manage the risk of fire outbreaks in their homes.

He said: "if you have the eye as a safety officer, you realize that there are a lot that could have been done to prevent most of these fires that occur in our homes".