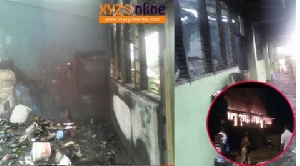 A dormitory housing male students of Konongo Odumase Senior High School has been gutted by fire.
According to reports, the students were in the classroom for preps when the fire started around 8:30pm.

The building that houses hundred students have been destroyed by the fire that also burnt the properties of students. The students affected have since been made to join their colleagues in other dormitories on the school's campus.
Meanwhile, the cause of the fire is still unknown but it's believed it may have been caused by a faulty electrical gadget used by the students.