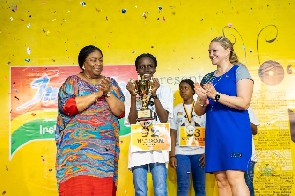 First Lady Rebecca Akufo-Addo has congratulated N'Adom Aboagyewaa Darko-Asare of DPS International School, for winning the 2023 Spelling Bee competition for the second consecutive time.
Like last year's, Mrs Akufo-Addo said the contestants exhibited sheer brilliance and competitiveness.

"I am happy that this year's edition included contestants from the Ashanti Region. I am hopeful that more regions will be included next year," she stated.

She applauded the organizers and everyone who helped put together the event.
She added that the Rebecca Foundation was proud to be a partner of educative programme.

Mrs Akufo-Addo also applauded the First and second runner-ups Mychelle Kumah and Janice Nketsiah, who together with N'Adom, form an all-female team to represent Ghana at the Scripps National Spelling Bee in the United States and wished them all the best.