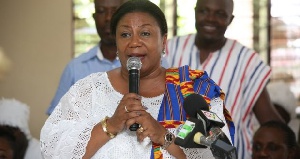 First Lady Mrs Rebecca Akufo-Addo has launched the "Free to Shine "campaign, aimed at eliminating Mother-to-child HIV transmission with a call on every pregnant woman to test and know her HIV status.
This will empower her to protect her unborn baby from HIV infection.

"If you test positive, know that you are not alone because there are nearly 40 million people living with HIV globally. The most important thing is to adhere to antiretroviral treatment.

"Adhering to treatment will also ensure that you give birth to an HIV-free baby who will live and grow free of HIV", the First Lady gave the assurance to women at the launch of the Campaign held on Thursday at the LEKMA Hospital premises at Teshie in Accra.

Statistics from the Ghana Health Service (GHS) indicates that in 2018, almost 1.7 million HIV test were done in Ghana with females forming 80 per cent of the numbers tested.

Almost half of the females tested were said to be pregnant women (864,266) out of which 1.6 per cent (13,802) were HIV positive.
Experts say if pregnant women do not get the opportunity to test for HIV and those testing positive are not placed on antiretroviral treatment, the direct effect would be, HIV infections in children born to these mothers.

The Free to Shine Campaign, a continental initiative of the Organisation of African First Ladies Against HIV and AIDS (OAFLA), the African Union and the UNAIDS, has, therefore, come in handy, to support and accelerate elimination of mother to child HIV transmission in the country.

The theme of the Continental Free to Shine Campaign is: Prevention of Mother-to-Child Transmission: the key to an HIV-Free Generation and Keeping Mothers Alive, and it was launched here in Ghana in collaboration with the Ghana AIDS Commission.

In line with the theme, the Campaign seeks to achieve zero HIV infection in children by 2020, end AIDS in children by 2030 and keep infected mothers alive and healthy.

The Free to Shine Campaign, according to the First Lady, would deepen efforts and make it possible to end HIV and AIDS in children in Ghana within the next two years.
Mrs Akufo Addo said due to the increased demand for services that would accompany the campaign, it would be critical to remove all bottlenecks associated with the supply of HIV testing and treatment services to meet the expected increase in demand."

"As a mother myself, I am pretty confident that any mother will do whatever it takes to ensure that they have healthy children, who can live life to the fullest. This can be achieved quite simply. Test, know your status and treat."

She recounted that several years ago, HIV was a death sentence when treatment was not available. "At the time, it was a fearful and futile exercise to test and know your status. Even when you knew, you kept quiet about your status because of stigma. Things are different now", she said hopefully.

She called on "the leadership of the GHS, Christian Health Association of Ghana and the Association of Private Health Providers, religious and traditional leaders, development partners and the private sector to support the Campaign and encouraged men to support their pregnant wives to test for HIV.

Mrs Akufo-Addo urged all stakeholders to join hands with the OAFLA to speed up the elimination of mother to child transmission of HIV and to keep mothers healthy.
She also commended all the Heart to Heart Ambassadors, who have been at the frontline in the fight against HIV and AIDS, saying, "because of these brave individuals, I have seen first-hand that, it is possible for women and men to be HIV positive, have children who are born free of HIV and live healthy lives".

Mr Kyeremeh Atuahene, Acting Director General of the Ghana AIDS Commission lauded the First Lady for championing the Free to Shine Campaign, saying that, with her at the forefront, all other stakeholders are more united in purpose and determined to eliminate mother-to-child transmission.

Ms Angela Trenton-Mbonde, Country Director of UNAIDS, expressed the recommitment of the UN system towards the elimination of HIV from mother to her baby.

The occasion was graced by Ministers of State, Members of Parliament, officials of GHS, Representative of the OAFLA Secretariat, Development partners, traditional rulers, and representatives of Civil Society Organizations, all of who pledged their support for the Free to Shine Campaign to the fight HIV and AIDS.