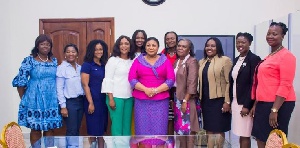 Wed, 4 Oct 2017 Source: Prosper Agbenyega
The First Lady, Rebecca Akufo-Addo will chair and speak at the Executive Women Network Annual conference scheduled for 20th October 2017 at the Movenpick Ambassador Hotel.
She confirmed her participation when Members of EWN, a non-profit organisation of women in senior management and executive positions in private organisations and women entrepreneurs, paid a courtesy call on her ahead of the conference.

The courtesy call, according to Freda Duplan, Managing Director of Nestle Ghana and Chairperson of EWN was to formally introduce Executive Women Network (EWN) to the first lady and her office and extend an invitation to her.

The conference will be held under the theme: Rebranding Ghana to drive business growth - the perspective of women leaders.

Mrs. Duplan said "we believe that as women in leadership roles, our contribution to the socio-economic development of Ghana cannot be over-emphasized. We have a duty to maximise our efforts on one front and complement each other riding on our collective strengths to deliberately position Ghana as the go-to country for business and investment not only in Africa but globally".
"This conference is the opportune call to all women in business, civil society organizations and politics who wish to be part of the solution and the nation's development agenda to converge and deliberate on actionable strategies to rebrand Ghana for growth," she concluded.

The First Lady welcomed and commended the team for their work in empowering women in Ghana.

She said, "I'm excited to associate with this great initiative and going forward, I would be glad to partner and work together on your various mentorship and corporate social responsibility programmes in various communities".

The maiden Executive Women Network annual conference is a call to action to move from rhetoric to action & execution in rebranding Ghana for economic development and will feature outstanding speakers from business, academia, politics and civil society.
Source: Prosper Agbenyega