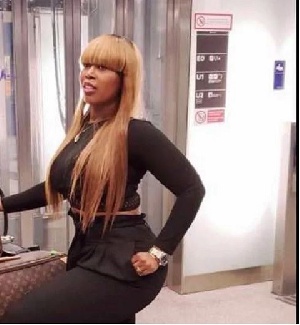 A picture of Nayele Ametefe walking free in London has emerged on social media. The picture, which is claimed to be the real photo of the embattled personality has her leaning against a luggage believed to be her travel belongings.
You can see Nayele dressed in black with a blonde hair. This comes barley hours after she was released from UK cells after she was caught three years ago smuggling large sums of cocaine to London.

So far, it remains unclear where Nayele will be visiting first after her being granted. But there are high expectations that she could touch down in Ghana.

The setting free of Naa Ayele comes after she was caught with large sums of cocaine.

Yen.com.gh has been seeking answers to the reasons for her removal and we have been getting reports from various media sources:

1. There are reports she was released on grounds of showing good behavior
2. Naa Ayele is believed to have been released based on parole - which is the conditions granted a prisoner upon which they get released from jail

3. There are claims the drug queen was released due to her earlier pleas to be with family since she has been the breadwinner of the house

4. There are suspicions the lady may have been granted freedom by some officials in the corridors of power in Ghana

5 The argument that she has three children, the first being 16-years-old.

6. That she was forced by circumstances to engage in transporting drugs to support her newly attained high-class lifestyle and to take care of her three children Nayele Ametefe was arrested three years ago after 12 kilogrammes of cocaine was found on her at Heathrow Airport in the United Kingdom.
She was subsequently sentenced to eight and half years imprisonment after pleading guilty to the offense.

In 2015, the Economic and Organised Crime Office (EOCO) teamed up with NACOB to file an application to confiscate some of her properties as well as her bank accounts, insisting she got those properties from dealing in drugs.

The court granted the application in 2016, however, the suit was challenged by Nayele's mother, with the explanation that the properties did not belong to her daughter.