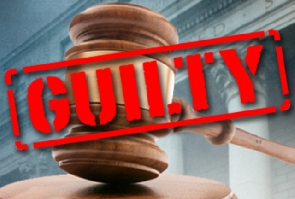 Sun, 17 Sep 2023 Source: GNA
Five illegal miners who were caught mining in the Ankobra River without authority have been sentenced to a total of 125 years imprisonment in hard labour.
Richard Kumasi, Fiamahe Jerry John, Korblavi Kumasi, Daniel Afenu, and Matthew Gedie, pleaded not guilty to conspiracy to commit crime and undertaking small scale mining without authority.

Mrs Hathia Ama Manu, the presiding judge, after trial, found all five persons guilty of the charges leveled against them.

On count one, the court sentenced each one of them to five years imprisonment, while on count two, each was fined GH¢120,000 or in default five years imprisonment plus 20 years in hard labour. The sentences are to run concurrently.

The Assistant State Attorney of the Western Region, Mr Kingsley Agyekum, prosecuting, said Nana Yaw Baako, the Assemblymember of Himan Electoral Area, is the complainant, while the accused persons were illegal miners, resident at Ankobra in the Prestea Huni-Valley Municipality.
On August 17, 2021, at about 1500 hours, the complainant and five opinion leaders had information that the accused persons were prospecting for gold with a dredge machine, popularly known as "Boat" in the Ankobra River.

Based on the tip-off, they proceeded to a village called Kpoviadzi in the Prestea Huni-Valley Municipality, where they met the five persons working.

Mr Agyekum said they were all apprehended and handed over to the police at Prestea to assist in investigations, while the dredge machine was set ablaze.

The five persons, before the trial, were admitted to bail as prayed by their counsel, Mr Augustine Arvoh-Mensah.
Source: GNA