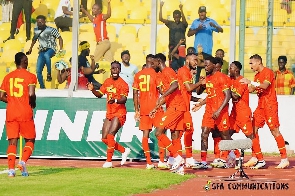 The Black Stars beat Central African Republic to qualify for the 2023 Africa Cup of Nations at the Baba Sports Stadium.
Ghana came back from a goal down to secure their qualification after an uninspiring performance at home.

The team struggled for the majority of the game against a side ranked 126th on the FIFA ranking. Their performance left questions and doubts about the team winning the AFCON in Ivory Coast in 2024.

Here are four lessons learnt from the game:

Baba Yara Sports Stadium proves to be fortress once again

The enviable bond between the Black Stars and Kumasi continues as the fans came through for the team and inspired them to stage the comeback win.
The Black Stars are yet to record a defeat at the Baba Yara Sports Stadium since 2000.

The fans turned up in their numbers and stuck with the team while they were down by a goal, cheering them until they got the win.

Black Stars need to improve on their setpieces

Ghana scored from a free kick but had wasted a lot of them in good areas. The technical team needs to improve the team's setpieces, which could be vital to the team during the AFCON.

The team lack cohesiveness
The Black Stars looked disorganized, it was difficult to identify the pattern the team was playing.

The teams' poor positional play led to them losing the ball in good areas and struggling to execute a build-up from the back, hence, resorting to long balls.

Antoine Semenyo is the team's most reliable striker

Antoine Semenyo had a great impact in the game despite spending about 20 minutes on the field.

He assisted the winning goal and came close to scoring twice. He has yet again proven to be the reliable striker in the team with his link-up play, positioning, timing runs, and leading the press.
Black Stars far from an AFCON winning level

The Black Stars won but there was nothing cheerful about their performance. Central African Republic looked lively and dominated the Black Stars, especially in the first half.

Ghana despite playing at home could not gain control of the match and looked disorganized until the final minutes of the game.

The team needs to brush off games against low-profile sides to prove their readiness to break Ghana's 40-year AFCON jinx.

Watch the latest episode of Sports Debate and Sports Check below






EE/NOQ