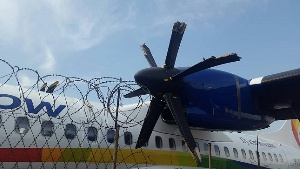 Aviation Minister Cecilia Abena Dapaah has inaugurated a five-member investigation committee to probe the recent Starbow plain crash at the Kotoka International Airport (KIA) in Accra.
Members of the committee are Nana E.R. Krakue, Air Commodore (Rtd) and Chairman of the Committee; Captain G.S. Parker, Air Force Base; Wing Cdr. Emmanuel Akatue; Squadron Leader C. Gaddah, Air Force Base and observer on the committee and Edward Agbodjan, an official of the ministry of aviation.

It would be recalled that on Saturday, November 25, 2017 at 12:20 pm, a crash involving Starbow Airline Flight S9 104 bound for Kumasi, occurred at the KIA.

The aircraft reportedly skidded off the runway when it was taxiing.

Management of Starbow Airlines immediately suspended all its operations, following the crash, which occurred on a bad weather day.

In consonance with Section 13.6.1 of the Ghana Civil Aviation Act 2016 (Act 906), the sector minister on Friday, December 8, 2017, constituted the committee to investigate the actual cause of the crash.

In her inaugural statement, she expressed confidence in the ability of the committee to undertake a good investigation to put to rest the suspicions surrounding the cause of the incident, as several people have reportedly given different causes of the crash, injuring five people.
Madam Abena Dapaah urged the members to "be guided by the provisions of the Act in the discharge of the task entrusted to you and offer recommendations that will assist in ensuring safety and security of our air services."

On government's vision of positioning Ghana as Africa's aviation hub, the minister said, "Government, through the ministry of aviation, remain committed to assist local airlines and entrepreneurs to set up strong private airlines that can utilize the nation's route rites and we will assist all the local airline operators to be in business and perform efficiently and effectively for the socioeconomic development of the country."

Nana Krakue assured the minister that they would do their best to carry out a good job.