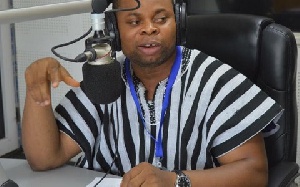 Franklin Cudjoe, founding President of policy think tank IMANI Africa, is advocating better welfare for the police service to help fight crime in the country.
His suggestion comes on the heels of a recent surge in crime, especially armed robbery in the country, which has led to the reshuffling of some top police officers.

Contributing to the heightened insecurity and the shake-up in the police service, Mr Cudjoe wrote on Facebook that: "I see the Police High Command has shuffled itself without any given reasons. We are left to speculate given the recent spate of hardened armed robbery incidents unknown to the republic in recent years.

"However, the major problem of the service remains funding. Last year, the government promised almost GHS160millon for the service. Even then, the police got just 20% of budgeted amount in 2017. Between 2015 – 2016, they got far less and not a single cedi given them for operations during the 2016 elections under the previous government.
"Now though, the announced GHS800million for the police needs to be monitored as the Interior Minister has started talking and dreaming about buying three helicopters out of that money for the police. We may need 'helis', but poor policeman needs to be well equipped with guns, modern guns, not world war II type weapons they have now and a place to lay their heads.

"The Police Service is in such a decrepit state and I am appalled. I do not think we have a proper Police Service. We are supposed to have about 52,000 Police personnel but as we speak we have about 38,000 and this year, they will only recruit 4,000.

"We do not have to belabour the point that the Police Service has not been treated properly. The welfare of the Police is a serious matter. As we speak only 6,200 of them are properly accommodated out of the 38,000 and so clearly we do not have a service that is befitting to even take care of itself."