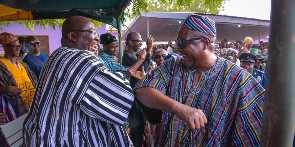 The government is estimated to save almost 50 billion Ghana cedis this year from the suspension of external debt service payments and the domestic debt exchange programme, former President John Mahama has said.
This windfall and a reduction of government expenditure, he noted, "could have been used to reduce the tax burden being imposed on Ghanaian businesses and individuals now".

"In fact", Mr Mahama added: "It would have brought some tax relief to Ghanaian industry and business instead of the three new taxes from which government expects to raise only GHS4 billion".

"What happened to the zeal behind this video? Easier said than done?" he asked in reference to a pre-election interview of then-vice presidential candidate Mahamudu Bawumia, in which he said the prevailing taxes as "hurting" and, "therefore, you are not going to get the growth and when you don't get the growth, you will not get the revenue and when you don't get the revenue, you'll go back to increasing taxes to get the revenue and then you are in a cyclical downward spiral … and, so, we will change that particular policy. We will use the tax incentives to grow the economy".

Ghana is currently aiming to get a $3-billion extended credit facility from the International Monetary Fund.
It already has secured a staff-level agreement but the IMF Board is yet to endorse the deal.

The country had gone through a domestic debt restructuring programme.

It is currently rallying support from China and the Paris Club to restructure its external debts.

A final IMF deal is contingent upon that as well as other home measures which include the recent passage of three revenue mobilisation bills.