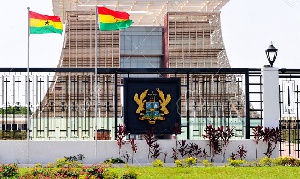 The Flagstaff House – Ghana's seat of Government – has been re-christened the Golden Jubilee House as Nana Akufo-Addo takes office from January 7, 2017.
The plush presidential palace was re-built in 2008 during the tenure of former President John Agyekum Kufuor. It was then known as the Golden Jubilee House until the National Democratic Congress (NDC) took over governance of the country in 2009 under the late president Prof. John Evans Atta Mills. Mills moved the office of the president back to the Osu Castle and later changed the sign in front of the building back to its original name claiming that the previous government had not used a Legislative Instrument to effect the change as required by law.

"Yes, we are going to use the name Golden Jubilee House to refer to the presidential palace instead of Flagstaff House. That's how Nana Addo has referred to it throughout his campaign," a top official of the incoming NPP government told Starrfmonline.com.

"Everybody should come and ride on the back of the Elephant. The Elephant has entered the White House let us get the elephant in the Jubilee House – Ghana's seat of government," Nana Addo said during the 2016 electioneering.

THE FLAGSTAFF HOUSE Location: Accra Inaugurated: November 2008 Cost: $30-50 million Ranking: World's 10th most beautiful Presidential palace
Background

When Prof. Mills came to power he refused to occupy the Flagstaff House, preferring the colonial edifice the Osu Castle as the seat of government. The house was temporarily used as offices for the Ministry of Foreign Affairs until the presidency was moved there later in 2013.

The Flagstaff House has served as a residence and office to the President of Ghana. It was built on the site of a building that was constructed and used for administrative purposes by the British Gold Coast Government. The current edifice was funded by the Indian government.