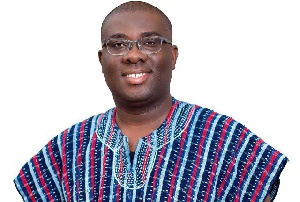 Over the years there has been a lot of contention about the integration of young minds into the nation's political landscape. On one hand, the youth are being described as the needed element to drive the nation's development, while on the other hand youth venturing into politics are described as "babies with sharp teeth" who require proper grooming to enter the political arena.
In 2015, while commenting on fallouts from the New Patriotic Party's parliamentary primary which saw a lot of old party folks losing out to some younger aspirants, the then National Youth Organiser of the party, Sammi Awuku said the competence of the party's youth is in no doubt as they possessed the qualities of "babies with sharp brains and not babies with sharp teeth."

Read the full story as published by www.ghanaweb.com below:

National Youth Organiser of the largest opposition New Patriotic Party (NPP), Sammy Awuku; has charged that his party's crop of young parliamentary aspirants are babies with sharp minds not sharp teeth.

"Our young parliamentary aspirants are babies with sharp minds, not sharp teeth," he stated on Peace FM's morning show program, Kokrokoo.

He was contributing to fallouts in the NPPs parliamentary primaries that saw big names pushed out by younger candidates.
He refuted claims that his party had criticised the ruling party under John Evans Atta Mills' presidency for appointing young people into political positions. Stating that it was the founder of the National Democratic Congress (NDC) Ft. Lt. Jerry John Rawlings who first criticised young NDC appointees in his infamous 'babies with sharp teeth' statement.

Mr. Awuku contended that the main difference between the two sets of young leaders was that, those of the NPP stood for and were duly elected into their political positions whiles those in the NDC were handed appointments.

He said the youth wing of the party was proud and refreshed with the victory of most of these young parliamentary aspirants. He however cautioned them to be wary of their steps in these early days especially because the public would be looking out for any missteps that they make.

He tasked them to listen and learn from the veterans they would be meeting in parliament, adding that he believed parliamentary maturity will come. "To whom much is given, much is expected," he cautioned.