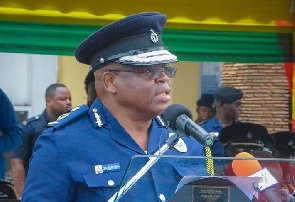 The Ghana Police Service in October 2019 warned its officers against deliberately planting marijuana (weed) into the vehicle of civilians so that they can arrest them.
The leadership of the police said that reports of its officers engaging in such acts were embarrassing and should be stopped if they were true.

A statement issued by the then Director of Public Affairs of the police, ACP David Eklu, said in addition to the complaints about the planting of weed, the police has also received calls, videos and messages of unprofessional conduct of its officers.

The warning the police gave its officers was after the then Inspector-General of Police, James Oppong-Boanuh, ordered senior police officers to lead operations and patrols.

Read the full story originally published on October 17, 2019 by starrfm.com.gh

The Police administration has warned its officers to be professional following reports that some officers on highway patrol duties deliberately plant weed in the vehicles of civilians so they can turn around to arrest them.
A memo from the police headquarters to the various commands seen by Starr News said the reports are embarrassing and that such action must end immediately.

The development comes days after the IGP ordered that senior police officers should lead operations and patrols in various communities.

Additionally, the Police will announce a number to receive public complaints, videos and messages of unprofessional police behaviour.

This was contained in a statement signed by the director of public affairs of the Police service, ACP David Eklu.

The move is intended to curb the misconduct of the officers on the roads and in society.
Oppong-Boanuh was confirmed as IGP by President Akufo-Addo having acted at the position for some months.




IB/SARA