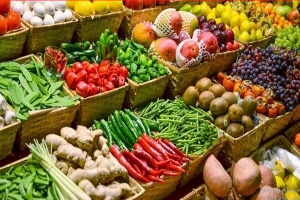 Majority Leader of parliament and Minister of Parliamentary Affairs, Hon. Osei Kyei Mensah Bonsu has said that prices of foodstuffs have remarkably gone down despite the increase in fuel prices.
The Majority Leader, who is also the Member of Parliament for the Suame Constituency in the Ashanti Region stated that, ideally, the job of the government is to improve the standard of living of the people and in his view, the government is doing just fine with that role.

He added that, there are several indications connecting to the good work of the President, stating that even though over the past one month there have been a little problem with the exchange rate, it has however been tamed by the government and also hoping to be stabilized very well in due time.

He said in an interview on Morning Starr with Francis Abban on Starr FM that, because of the remarkable job of the government being able to stabilize the economy, foodstuffs prices have come down significantly as compared to what happened in 2015/2016 where according to him, food prices were beyond expectations.
"I can boldly say that food prices have gone down remarkably, Francis. I buy foodstuffs myself so I know what I'm talking about. When I'm coming to Accra from Kumasi, I buy food on the way almost every time. The prices that have gone up as far as foodstuff is concerned has to do with tomatoes. They're high because of the excessive rains, when there is too much rain they destroy the harvest of tomatoes and therefore leads to its least production. Apart from that I can tell you that plantain prices have come down significantly, cassava, yam, garden eggs and many more. You may probably say maize, but you have to know that we're not in that period yet. When it gets to its season you'll see how it'll float on the market." He argued.

Hon. Mensah Bonsu in conclusion added that, even though the New Patriotic Party is doing very well in governing the country, there is more room for improvement as they have planned to put Ghana in the best state and ensure the comfortability of the people of Ghana as they promised before their tenure of office.