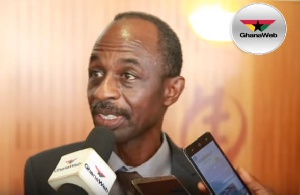 The General Secretary of opposition National Democratic Congress (NDC) Johnson Asiedu Nketia has admonished foot soldiers to be patient with their party when they win power.
According to the NDC kingpin, popularly called general Mosquito, "there is nothing gratifying in party politics than having your party in power".

He argues agitations of party supporters for immediate rewards after electoral victory mostly put parties out of power.

Addressing the 2nd ordinary congress of the Movement for People's Progress (MPP) party in Ouagadougou, Burkina Faso, Mr. Nketia warned the consequences of a party losing power are worse.

"And to the party youth and to all committed foot soldiers of MPP, there is nothing gratifying in party politics than having your party in power.

The frustration of party foot soldiers not getting employed immediately or quickly rewarded when the party comes to power cannot be over emphasized, yet the consequences are even worse when you find yourself in opposition".

He explained the toils of party activists are mostly rewarded but not at a go thus the need to exercise restraint.
"The reward of party activism is like embarking on a journey; it starts with a step but covers miles with time. I readily recall a famous quote of the late leader of our party and former President Prof.

John Evans Atta Mills who said 'while party activists must be rewarded; we must understand that some get their reward in the morning, others get theirs in the afternoon and others in evening'.

The tendency for party faithful to get demoralized, disenchanted and apathetic as a result of this challenge is real and a difficult one to confront."

Nketia who was recently elected as vice President for Socialists International (IS) also charged government appointees to often make efforts to reward supporters and activists in order not to create despondency which often cost the party in the end.

"It requires collective efforts of all political appointees and those who have gotten 'theirs' to carry their comrades along. This enhances party cohesion and mobilization."

General Mosquito assured the governing MPP of Burkina Faso of maximum support in enhancing democracy and ensuring development.
"Mr. Chairman on this note, let me reiterate our commitment at both Socialist International and the level of NDC, to support and encourage your party, our sister, the MPP in the advancement of social democracy as well as the championing of the principles of building a just, fair and equitable society."

The MPP came to power in Burkina Faso in 201 6 with Mark Rock Christian Kabore as President after the forceful removal of President Blaise Compaore who had sought to extend his stay after over 20 years in power.

The National Democratic Congress (NDC) lost power to the governing New Patriotic Party (NPP) in the 201 6 polls after eight years in power in Ghana.

Many believe neglect of party structures caused the NDC the elections. Leadership of the NDC led by the General Secretary is in Burkina Faso to attend the congress of the sister party MPP.

The delegation is expected to meet with President Mark Rock Christian Kabore while in Ouagadougou.