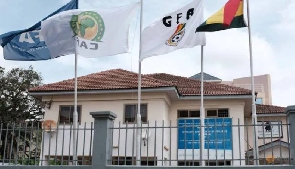 The Greater Accra Regional Police have given the green light for a demonstration at the premises of the Ghana Football Association (GFA).
According to a letter dated September 26, 2023; the march is organized by a group known as Ghana Football Stakeholders Forum.

Some details of the protest are as follows: It will take place on Monday October 2, 2024 between the hours of 9am and 2pm.

"You shall present petition to the Ghana Football Association (GFA) and the Minister of Youth and Sports," the statement read in part.
GhanaWeb Sports is working to reach the organizers for more details on their intended locations and routes for the march and what exactly their petitions will include.


Some people are organizing a protest at the GFA on Oct 4. Be like everybody just vex! pic.twitter.com/MHE9viaSBn

— Fentuo Tahiru Fentuo (@Fentuo_) September 28, 2023