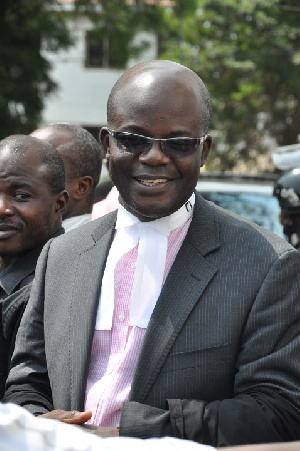 Lawyer for President John Dramani Mahama, Tony Lithur has applauded the Commission for Human Right and Administrative Justice (CHRAJ) for exonerating his client over the Ford SUV gift saga.
Mr Lithur in a statement said he was "always confident of my client's innocence, the report throws more light on the circumstances surrounding the subject of the complaints, and demonstrates clearly to the people of Ghana that the accusations of conflict of interest and corruption variously made against my client by different people and entities in various fora, were wrong, without basis and unsupported by the facts."

He added that the investigations "conducted by CHRAJ and the manner in which it has tackled all the issues arising from the complaints are commendable."

It is recalled that the President accepted a Ford Expedition car as a gift from Burkinabe contractor Djibril Kanazoe.

Mr Kanazoe was later given series of contracts by the Government of Ghana, including a $650,000 deal to fence a tract of land around Ghana's mission in Burkina Faso.
Unsatisfied with the conduct of the president, the Progressive People's Party, the Youth Wing of the Convention People's Party (CPP) and a private citizen petitioned CHRAJ to have Mr Mahama investigated for conflict of interest and bribery.

The commission, after its investigations, however, concluded that the President's action did not amount to bribery, fraud or conflict of interest but CHRAJ indicted the president for contravening the gift policy regime for public officials.

Acting Commissioner for CHRAJ, Joseph Whittal has told Class News its report should bring closure to the matter.