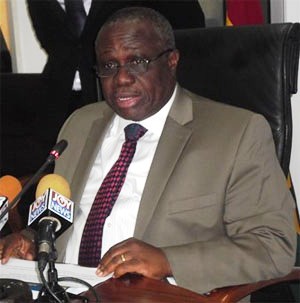 Tue, 14 Jul 2015 Source: Daily Guide
The daily injection of some $20 million into the forex market by the Central Bank, which has strengthened the local currency against major foreign currencies, has sent shivers down the spine of forex traders who are recording significant losses.
Traders and commercial banks cannot fathom why the Bank of Ghana (BoG) would oversee the depreciation of the Ghana cedi for such a long time and inject $20 million into the system on a daily basis to deny them of their returns on investments.

The rapid depreciation of the cedi against major foreign currencies started in January last year and continued this year.

The BoG previously pumped $14 million per week onto the market but increased it recently to help shore up the cedi significantly.

Central Bank Governor, Dr Henry Kofi Wampah stated that the trend is going to continue to ease pressure on the local currency.

Foreign currency hoarders and some forex dealers, who anticipated a further fall in the value of the local currency, have lost huge amounts of money.
The hoarders threw in the towel and flooded the commercial banks with dollars after the Central Bank started the injection of dollars into the market.

The local currency started this year at GH¢3.25 to a dollar. In June, it peaked at almost GH¢4.50 fueling speculations it might lose value further.

On Friday, GH¢3.45 was being used to purchase a dollar which was also sold at GH¢3.46.

Market watchers have forecast the Ghana cedi could end the year at between GH¢3.90 and GH¢4.3 to a dollar but it is expected to move to GH¢2.70 a dollar next week on the back of the increased dollar inflows from the Eurobond sale, the $400 million from the World Bank and the $1.8 billion cocoa syndication loans.

Owing to the development, the cedi has also appreciated against the Naira and other West African currencies.
The Alliance for Accountable Governance (AFAG) expressed happiness with the appreciation of the cedi against the major trading currencies but cast doubts over the sustainability of the exercise by the Central Bank.

"Considering the current precarious economic situation in the country, any attempt at stabilizing the cedi is considerate and not out of place, as it has an overwhelming effect on the micro-economy of Ghanaians.

"However, AFAG would like to know in actual fact the reasons behind the sudden fall, its sustainability and the effect of this fall on petroleum products," it disclosed in a statement.

When officials of the Central Bank were questioned previously, they often told journalists that the invisible hand of the market would correct the anomalies.
Source: Daily Guide