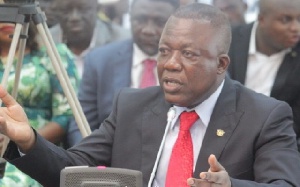 Former Ashanti Regional Minister John Alexander Ackon has been cited for ordering police in the region to release 4 seized excavators and a Toyota Hilux Pick up to "Galamsey Queen" Aisha Haung
A letter from the Ashanti Regional Coordinating Council dated August 16, 2016 and signed by one Kofi Dwomoh Asubonteng, Regional Coordinating Director and Secretary to the Regional Security Council (REGSEC) stated that it was a directive from the security body chaired by the minister.

According to the letter, the heavy duty trucks had been seized and parked at the Finaso barrier in the Obuasi Municipality under the instructions of one Superintendent Frimpong.

The letter however seem to give credence to the claims that 31- Aisha Haung that she is powerful and is able to influence authority to engage in the illegal mining activities.

The Chinese lady who is married to a Ghanaian is alleged to have videoed sexual escapades with some persons which she allegedly uses in blackmailing them against moves to halt illegal mining.

Aisha Huang, who has acquired local names like – Aisha and Yaa Asantewaa – is reported to be boasting with her influence and has in time past boasted of how untouchable she is.
Meanwhile the Criminal High court presided over by Justice Charles Edward Ekow Baiden on Tuesday May 9, 2017 remanded into prison custody the popular 31-year-old Aisha Huang.

She was remanded by the court alongside five other Chinese male nationals and are expected to reappear on the 23rd of May.

According to the judge, Justice Edward Ekow Baiden, he granted the plea by the Immigration asking for them to be remanded for further investigations because he did not believe the suspects will make themselves available if granted bail.