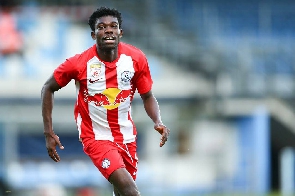 Ghanaian international, Forson Amankwah climbed off the bench on Tuesday evening to star for Red Bull Salzburg in the team's victory in the Austrian OFB Cup.
The talented midfielder missed out on a starting role today when his club played as visitors to Austria Salzburg.

In a Round 32 encounter of the domestic cup competition, Forson Amankwah missed out on a starting role for his team.

After recess when Red Bull Salzburg was leading by a goal to nil, the Ghanaian midfielder was introduced into the game in the 62nd minute.
With a chance to play, Forson Amankwah impressed and scored a brace with goals in the 63rd and 74th minutes respectively.

With additional goals from Amar Dedic and Strahinja Pavlovic, Red Bull Salzburg secured a 4-0 win over Austria Salzburg at the end of the 90 minutes to progress to the next round.