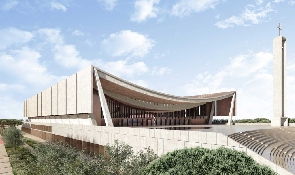 The foundational work of the construction of the National Cathedral project has been completed, the Secretariat disclosed at a ceremony in Accra.
The Executive Director of the National Cathedral of Ghana, Dr. Paul Opoku-Mensah, maintained that the National Cathedral is likely to be completed before President Akufo-Addo leaves office.

"The most important decision regarding the National Cathedral was the decision by the President on March 6th, 2017, for the nation to build the national cathedral.

"…We are at a stage where we're very confident that God helping us to quickly raise the needed funds, we will be able to complete this project in time for you to bequeath it to the Ghanaian people before you leave office," he told the gathering."
Dr. Paul Opoku-Mensah made the point during a Worship and Thanksgiving Service on Monday, January 2, 2023, that climaxed a three-day Christian Interdenominational Bible Reading Marathon to celebrate the vision and laying of the foundation of the National Cathedral.

The leadership of the National Cathedral of Ghana organised this at the construction site of the National Cathedral in Accra.

Meanwhile, President Akufo-Addo has made a donation of GH¢100,000 to the project.