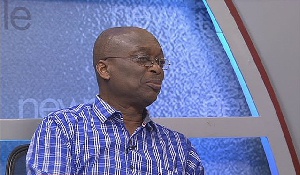 Editor-In-Chief of the New Crusading Guide newspaper, Abdul Malik Kweku Baako, believes much as President Nana Addo-Dankwa Akufo-Addo's decision to propose legislation to Parliament to designate 4th August as FOUNDERS DAY, and 21st September as KWAME NKRUMAH MEMORIAL DAY, is a mark of "sincerity", it cannot be a "substitute for science".
To him, though Nana Addo needs to be commended for adopting a better approach than the Mills/Mahama NDC administration when they declared 21st September as a day to commemorate Dr. Kwame Nkrumah, the president's proposition is not needed at the moment.

President Nana Akufo-Addo is proposing a legislation to Parliament to designate August 4 as Founders' Day and September 21 as Kwame Nkrumah Memorial Day.

Both days: August 4 and September 21, will be observed as public holidays, according to a statement signed by the Director of Communications at the presidency, Mr Eugene Arhin, over the weekend.

The statement further stated that : "...This means Thursday, 21st September, which hitherto was marked as Founders Day will now be celebrated as Nkrumah Memorial Day in honour of Ghana's first president, Dr Kwame Nkrumah."

Contributing to a panel discussion on Peace FM's "Kokrokoo" programme Wednesday, September 20, Mr Baako noted that the NDC government under the leadership of the late President John Evans Atta Mills did not give Ghanaians the option to discuss and reach a consensus over the decision to declare 21st September as a statutory public holiday.
"It was clearly an attempt not to build a consensus. They, themselves, knew that this matter will be controversial. So, to avoid the controversy, they decided that let's apply the executive instrument option…At that the time they were doing what they did, there were major issues and even then you (NDC) did it in any way that you didn't attempt to canvass a national consensus behind that project", he stated.

To him, though President Akufo-Addo sought to be sincere by not imposing August 4th on Ghanaians as a statutory holiday to celebrate Founders' Day, the nature of politicking in the country clearly shows that, it is an exercise in futility.

"To be honest, I think Akufo-Addo has been smart, he is being sincere but as I said, sincerity is not a substitute for science....Unfortunately, the way we do our politics in the country, this thing will not work. If I were to be him, both days, in terms of Founders, will be ignored....Leave it like that, we don't need any day. We need times to commemorate and celebrate them, but a day as a statutory public holiday is too premature, we are not there yet."

The seasoned journalist further stated that what the President has done is to afford the nation an opportunity to interrogate the issue before an agreement is reached, though he had other options.

"Fortunately, he couldn't impose it. He could have used executive instrument…but again being a consummate politician and all the history he knows, he knows that no; that approach will not be the right one. So, he's given Ghanaians an opportunity to interrogate this issue thoroughly and come to a conclusion," Kweku Baako said.