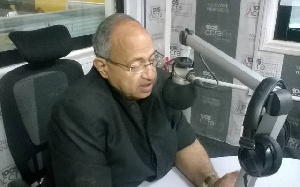 Dr Onzy Nkrumah, son of Ghana's first President, Dr Kwame Nkrumah, has said the Founders Day debate initiated by President Nana Addo Dankwa Akufo-Addo is shocking because Ghana has one founder.
Mr Akufo-Addo has decided to propose legislation to Parliament to designate 4th August as FOUNDERS DAY, and 21st September as KWAME NKRUMAH MEMORIAL DAY, both of which will be observed as public holidays.

A statement signed by the Director of Communications at the presidency, Mr Eugene Arhin, said: "... In the meantime, the President has issued an Executive Instrument to commemorate this year's celebration of KWAME NKRUMAH MEMORIAL DAY as a public holiday.

"This means Thursday, 21st September, which hitherto was marked as Founders Day will now be celebrated as Nkrumah Memorial Day in honour of Ghana's first president, Dr Kwame Nkrumah."

But speaking on the Ghana Yensom Show on Accra 100.5FM, hosted by Chief Jerry Forson on Thursday, September 21, Dr Onzy Nkrumah said: "This comes as a huge surprise because I know that Nana Addo Dankwa Akufo-Addo, the President of Ghana, is knowledgeable enough to know what my father (Nkrumah) did is the foundation and the birthing of Ghana. So why entertain this thought?
"People around him are going to sell to him this theory that if we have more founders then let's recognise the UGCC as the founders.

"You can't argue the NPP is the offspring of the UGCC movement, and they can celebrate UGCC as many days of the year as they want, they can celebrate it 365 days of the year, but it can't be a national event."

He added: "I don't mind calling 21st of September as Kwame Nkrumah Day, in fact, I am on record to have said let us call it by its name because that is his officially recognised birthday. He is the founder, he did not seek fame or fortune so there was no need for us to give him a definition of the founder."