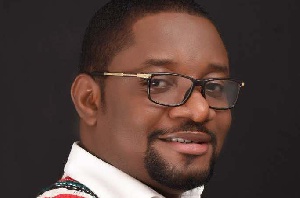 Sat, 11 Mar 2023 Source: GNA
Fred Agbenyo, Deputy Director of International Affairs for the National Democratic Congress (NDC), says he is confident of emerging victorious in the upcoming parliamentary primaries of the party.
He is also hopeful that he would become the first Member of Parliament (MP) of Guan in 2024.

Fred Agbenyo in an interview with the Ghana News Agency (GNA) at Likpe said he was born and raised in the Guan enclave and his message resonated well with the people who appreciated that he had, "gone through the mill" and was adequately prepared for the task ahead.

Fred Agbeyno said he had picked the nomination form and had also interacted with delegates in the various communities he would be representing if given the nod to represent them.

"I very hopeful that come May 13, when we congregate to elect a parliamentary candidate, I will emerge victorious and have the opportunity to represent my people."
He said that agriculture was key on his agenda and since the area was an agrarian, the use of technology and modern ways of farming were the way.

In addition to that, he said the issue of education was also critical to him since education when taken seriously, would let one become successful, adding that health, roads, and tourism would equally be given serious attention on his agenda.

Fred Agbenyo said he would leverage on his network and bring the needed developments for the district and the Constituency if given the nod to lift up the image of the new district and constituency.
Source: GNA