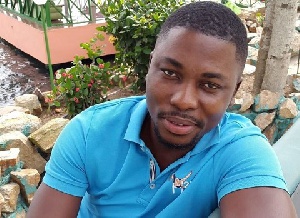 After creating fake websites, cooking up untrue articles and composing politically charged songs against John Mahama administration branding him as very corrupt, Kwame Asare Obeng, alias A-Plus, has become an albatross on the neck of the NPP beneficiaries of that enterprise, and they are now running away from him.
One by one, executives of the New Patriotic Party (NPP), including acting National Chairman, Freddie Blay, and Youth Organizer, Sammi Awuku, who saw political advantage, calling him their friend and urged him on, are now on their heels running away from the weapons they had armed A-Plus with.

Just few months ago, no less a person, than the President, Nana Akufo-Addo sent A-Plus a "Thank you letter" and also publicly acknowledged him for contributing immensely towards his 2016 presidential victory after years of trying.

However, things have changed with Mr. Blay, describing claims of corruption, subsequent altercations with the Deputy Chiefs of Staff, Francis Asenso-Boakye and Samuel Abu Jinapor by A-Plus, as destructive to the feat chalked so far by President Akufo-Addo.

The Youth Organizer, Mr. Awuku on Peace FM yesterday, casted doubts about A-Plus's credentials as NPP card- bearing member, saying he had only professed love and admiration for the then flagbearer Nana Akufo-Addo, just like other celebrities who took part in the 2008, 2012 and 2016 campaigns.

The Brong Ahafo NPP Regional Youth Organizer, Kwame Baffoe alias "Abronye DC" also claimed that A-Plus' bribery allegation against the two deputy Chiefs of Staff inside the Flagstaff House, was based on 'selfish interest'.

The BA youth leader, accused A-Plus of deciding to fight the battle of his 'master', the CEO of Korle-Bu Teaching Hospital, Dr. Felix Anyah, after he unlawfully terminated Unibank's contract due to old scores he [Dr. Anyah] has to settle.

Speaking on Okay FM's 'Ade Akye Abia' Morning Show, the aspiring National Youth Organizer, explained that Dr. Anyah, who used to work with Holy Trinity Hospital, had issues with Unibank on over-pricing by the bank as the hospital was rendering health service to the bank's staff; thus, the bank decided to terminate its contract with Holy Trinity.
"Unibank has not erred about the way it has been carrying out its duties with Korle-Bu. This is more or less personal issue between Dr. Anyah and Unibank when the former used to work at Holy Trinity and Unibank terminated a contract it had with the hospital due to over-pricing and Dr. Anyah wants to pay Unibank back as he has taken over Korle-Bu as CEO, but the NPP will not entertain such behaviour", Abronye revealed.

The Herald, has since obtained a copy of the letter by Unibank, terminating the arrangement it had with Holy Trinity Hospital at North Kaneshie – Accra.

On his part, Mr. Blay, speaking on the A-Plus matter charged, "It is not helpful, it detracts from what we are doing", adding the report by the Police on the matter exonerating the two Chiefs of staff must resolve the impasse.

A-Plus, a member of the ruling government alleged on social media that, the two Deputy Chiefs of staff are corrupt and thieves. Police investigation into the allegations described his claims as baseless, however, a leaked tape last week portrayed a cover-up during the police investigation revived the public debate on the matter.

To Mr. Blay, "the situation is not very very appropriate, the Presidency and the government of Nana Addo Dankwah Akufo -Addo is doing very well but if a few things may have happened. There is an allegation and so forth and which he has promptly stepped in to ask the Police to investigate ,the Police has come out with its report and so far as I am concerned that is official, unless you don't agree with what the Police have done but anybody could have his own opinion to disagree or agree with what the Police have done, and they have done their work .The next step will be what to be done".

During an interview with section of the media in Koforidua on Sunday, October 1, on the sidelines of Eastern Regional Youth Conference and Awards organized by the Regional Youth wing of the NPP, Mr. Blay, disclosed that the leadership of the party, has advised the feuding factions to calm down.

"For anybody to say the party leadership should step in I don't see from which angle, how do we step in, do we interfere with the investigation assuming that is to be investigated or do we interfere with the result. What one could say behind the scene is to advise them, the protagonists and antagonists and those involved to take it easy, to be a little bit mindful of their utterances and so forth. We've been doing that all the time but we don't come out publicly to say that but we may advise but people may take their own decisions ".
He said, what has happened is a lesson to the party and government officials on the need to jaw –jaw.

" I hope we are all learning from it that, It is not helpful, it detract us from what we are doing and therefore we should come together but not to say you gag everybody from talking. This is a democracy, if you feel that you have a very good point you want to make criticism that is well grounded and not frivolous why not, that is what democracy is all about, it helps us to build our nation with integrity ,openness, and truthfulness ".

In February, A-Plus had confessed to concocting stories against the Mahama regime and putting them on the internet to favour Akufo-Addo and the NPP.

This was after he turned his arsenals on some members of the governing NPP, forcing some party folks to question the quantum of his contribution towards Akufo-Addo's victory.

A-Plus revealed how he helped the NPP to win power saying; "I created the 2016 website and handed it over to your communications people. I paid for it with my money. Your party didn't pay me. I created the dailygraphix website and handed it to your communications people. I did that with my money. I was paying the writers for both websites. I had a meeting with Dr. Bawumia and [the] late Kwabena Boadu and promised to sponsor it. They should leave it to me. I joined your campaign. I didn't ask you for money. I had the opportunity to make money elsewhere but believed your party is the best for Ghana. I went campaigning with my own money. It got to a time we had to go to Moree for rally. We were looking for money to feed 250 loyal ladies. I paid for all of them. I gave my music to your party to sell at rallies and keep the money. I risked my life to be an election observer in Muntaka's constituency. One of the flash spots. God be the glory we won. I've not asked for a position or money. I'm only calling for an investigation into a corruption allegations that will destroy your party and you are fighting me….smfh. NPP!!!"

The political satirist, had accused the NPP Member of Parliament for Abetifi in the Eastern Region for developing a payroll software for the Controller and Accountant General's Department which he claims is being used to steal money from state coffers.

A-Plus was lambasted by followers of the MP and majority of the NPP youth on social media who questioned his contributions to the party's victory. The MP subsequently got his lawyers to ask the musician to render an unqualified apology to him and retract his accusation or meet him in court.
Replying those who doubted his role in the Akufo-Addo 2016 Campaign, A-Plus revealed he did a lot, including creating websites to promote the agenda of the NPP at the expense of the NDC then.

According to him, with his own money, he created fake websites such as "nationalcomplaintcentre" "dailygraphix" and handed and placed them at the disposal of the NPP communication team.

He further revealed paying writers to concoct stories on these websites. He revealed meeting the now Vice President Dr. Mahamudu Bawumia and his late press aide, Kwabena Boadu who promised him to sponsor his phony news websites.

These websites were used to promote satirical stories which many Ghanaians were not familiar with. For instance, dailygraphix which many confused it with state-owned dailigrahiconline.com was used to invent stories against the President John Mahama.

These websites also twisted stories to court disaffection and insults on Mahama and his appointees.

What made it worse was that, some mainstream websites published some of these stories and got radio stations to highlight them in their newspaper reviews.

Aside dailygraphix, The Herald is aware of another website, "screwlife" which is owned by Kwame A Plus.
He once admitted on Ghone television "Friday Life" with Peace Hyde that he was responsible for those websites. In fact, the hostess had the cause to complain bitterly about one such story the site did about her.

For instance, "dailygraphix" published a fake story on August 31, 2016 captioned "Stop acting poor and start helping Ghanaians because you have made a lot of money under my government-President Mahama tells NDC Appointees and MPs".

"screwlife" also concocted "EC says NPP must pay 200gh per head for their 400 imported election monitoring drones", "Ex-president J. J. Rawlings angry tells Mahama to remove his photos from the metro buses as it's a waste of national resource", "President Mahama: God will even vote for me if he had a voter's ID card because I have done my best-more than anyone can do for Ghana".

Other include "Asiedu Nketia: Vote for president Mahama who is God's only chosen presidential candidate for the best Christmas ever", "John Dumelo tells students: President John Mahama is handsome, tall and exceptionally competent-so vote for him on Wednesday", "President John Mahama to commission Nsawam prison's expansion before January 7", "If I were Nana Akufo-Addo, I will Renounce my Ghanaian Citizenship, Mzbel".

The fake on story on Mzbel, was taken as an interview she had granted. Her home was raided when the NPP won power, and she was heard on an audio after the attack crying.