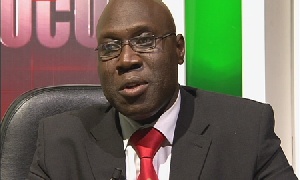 Tue, 21 Feb 2017 Source: Enerst Lartey
The Member of Parliament for Tamale Central, Hon. Inusah Abdulai Fuseini has said that a successful implementation of the free Senior High School policy will make President Akufo-Addo a statesman who will be remembered by many generations to come.
Sharing his expectations on the president's 'State of the Nation Address' due to be delivered today on 'State of Affairs' on GHONE TV last night, he said the president has made Ghanaians a lot of promises and doubt if all can be achieved before the end of his tenure of office.

"I wouldn't be surprise to hear the president chastise the previous government that it handed him the worst economy ever. Most past presidents have done that and l suspect he will do same. Ex-president Kuffor and Atta Mills did it. Of course this president will do same because it has made huge promises and would use statements like these to make excuses for its inability to achieve most of its manifesto promises," Hon. Inusah Fuseini explained.

According to him Ghanaians shouldn't be too expectant of the President to deliver on his promises soon as many of them are long term objectives. In his opinion, all the manifesto promises were for political gains and that the president will assess the real ones that are achievable and roll them out.

"Many of the promises will not be achieved in the president's first year in office. Of course, some of them will be achieved in his third and fourth year but don't forget the president contract expires in 2020 and l believe that he will not be able to achieve many of his manifesto promises before the next elections," .

To this end, he asked Ghanaians to look forward to the budget because most of the policies that achievable by the government will find space therein.
He advised the president to use his state of the nation's address as an opportunity to lay his foundation by telling the citizens his roadmap for all his projects and to unite Ghanaians for the greater work ahead.

Hon. Fuseini lauded government's decision to improve the railway sector through public private partnership and said that it should make business sense enough to attract private sector investment other than that it will never see the light of day.

"No private sector person is a father Christmas to doll out monies for project that won't benefit him or her. It must make business sense and that is what I expect the NPP to do."

He hinted that the minority will not boo the president but will cheer and jeer the president on as he delivers his State of the Nation Address later today.
Source: Enerst Lartey