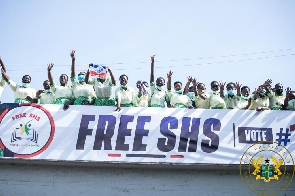 The Ghana Education Service (GES) has said most students who were expected in the various Senior High Schools (SHSs) in the Ashanti Region have still not reported to their posted schools across the country mostly those in the Ashanti Region.
"The fact is the, some of the students have reported to their various schools but there are still most of them who haven't reported yet. This is becoming an annual routine some have also not heard of it at all.

"There are some of the students who have no idea about their placement whiles others are still looking for schools… some are also still in the forest and haven't heard of it." Public Relations Officer of the Ghana Education Service in the Ashanti Region Mr Mark Ofori told Oyerepa FM in an interview monitored by MyNewsGH.com.

The Ghana Education Service a month ago released the computer placement list for the new students who were to be admitted in various Senior High Schools (SHSs) across the country. Days after the release, the GES has disclosed that most students have still not reported.

The GES in the Ashanti Region also indicated that the service has been calling parents on phone to remind them of the fact that, it time for their wards to report to their chosen or placed schools.
Though it is almost time for schools to vacate, Mr Mark Ofori insisted that, students can still go to their various school posted for admission.

The GES also pledged to offer help to needy students who have peculiar problems to go to their various schools because there are plans to offer them help.

"We are still reminding parents that, if you have been placed in the Ashanti Region that if there anything hindering them that is preventing them from going to school they should kindly go those schools they were posted so that GES know how to handle such issues for them to go to school", Mr Mark Ofori told the host

The GES further assured both parents and students "until the last student goes to school, officers of the GES are not going to sleep."